The summer we've all been holding our breath for has arrived. As they say on Chanel 7, the 3 H boys have come to town.
Garage sales have been lousy, not much good stuff. I did manage to find a gorgeous Quaker lace tablecloth in perfect condition, after I washed it. For $2. Amazing.
My middle darling visited me Saturday with her little munchkin. He's two, repeats everything you tell him, has a mind of his own, and is so adorable, you just want to squeeze him. But that's not allowed! Two-year-olds are very much their own people.
Today I will see me oldest kid's kids. I'll pick them up from day camp. I will have to get a treat before I pick them up, that's expected. Her oldest called me on Sunday to tell me he lost another tooth. That makes 4 teeth gone now! Gosh, he's growing up.
I've been talking about having problems with the photos.
I'm still working on it, this is a work in progress.
This is Shelter Island, NY. I love this photo, it symbolizes summer for me.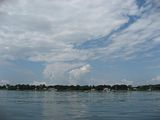 and this is my middle child and myself:
and here is the middle child's munchkin, fast asleep on a noisy motor boat, with people yelling over the engine noise: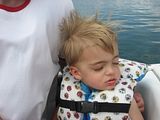 and Jessie, as always a gorgeous smile.